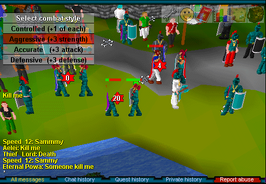 Back when everything was better. Black-and-white TVs, radio, and of course, creamed corn.
Runescape
Edit
In my day, there was no such thing as a trade restriction. Damn commies hadn't moved in yet.
The graphics were better too...all blocky and un-symmetrical. Much easier on the eyes. Nowadays a man has to whip out the bifocals just to play a damn game.
The tires are too small these days. Enough said.